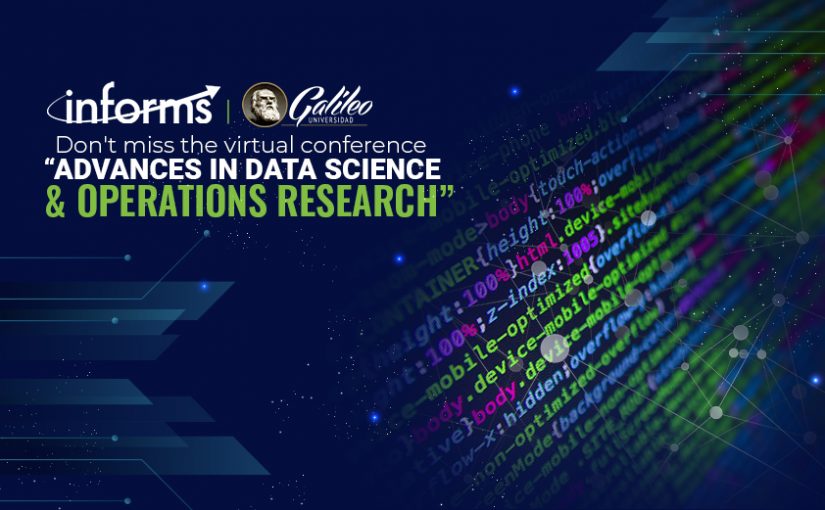 Don't miss the virtual conference «Advances in Data Science & Operations Research»
In collaboration with Informs, Galileo University invites you to the second edition of the virtual conference for Latin America. This conference will reunite the scientific community in Operation Research, Business Intelligence and Data Science.
If you study or work in the fields of Data Science, Business Intelligence, or Operation Research, you will be interested in being part of the virtual conference "Advances in Data Science & Operations Research."
For more information on participating or requesting a scholarship, click here: "Advances in Data Science & Operations Research."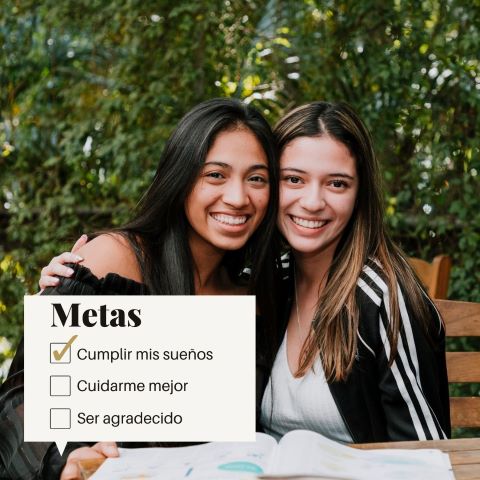 This event, held by Galileo University (Guatemala) in collaboration with the Institute for Operations Research and Management Sciences (Informs), will congregate the scientific community in Guatemala and the rest of Latin America interested in this academic and professional fields.
The conference will be held on the 7th and 8th of December, and its goal is to generate possible collaborations and increase the application of these areas in the Latin American industry.
The event, which will be held in virtual format, will offer participants a series of seminars, workshops, and conferences given by national and international specialists.
A related article you can read: Two keynotes of high level on the conference "Advances in Data Science & Operations Research"
---
Board of Directors
The Board of Directors is formed by directors and professors of Galileo University. They are:
Jorge Samayoa, Ph.D. General Chair
José Ramírez, Ph.D. Executive Chair
Marco A. To, Ph.D.
Miguel Morales, Ph.D.
Alberth Alvarado, Ph.D.
"We are positioning Galileo University as an institution of leadership in the region in Data Science, Business Intelligence and Operation Research," says José Ramírez, Ph.D., Sub-Director of Instituto en Investigación de Operaciones.
"Being the institution that represents Informs in Guatemala is important because they always have high expectations. Last year they trusted us with the organization of their annual conference for the first time. The fact that we are doing it again means that we have done a great job", he adds.
---
High-level conferences
The professionals and experts who will be speakers during the conference are people identified for an extended period. Because the event is virtual, their participation was easy to schedule.
Some of the topics of the lectures and seminars that will be part of the virtual conference "Advances in Data Science & Operations Research" are:
Business Intelligence in the cloud – Ing. Jesús Gil
Big Data ¿What to consider for my projects? – Ing. Joseph Arriola
Leadership for a project of Data warehousing and Auto Service – Ing. Luis Joachin
Supply Chain and international logistics – Ing. Rafael Bolaños
Can Brands Claim Ignorance? Unauthorized Subcontracting in Apparel Supply Chains – Dr. Anna Sáez de Tejada
Business modeling: Making use of Operations Research to develop innovation and value – Dr. Ramiro Bolaños
The importance of widespread testing for COVID-19 pandemic: systems thinking for drive-through testing sites – Dr. Adrián Ramírez Nafarrete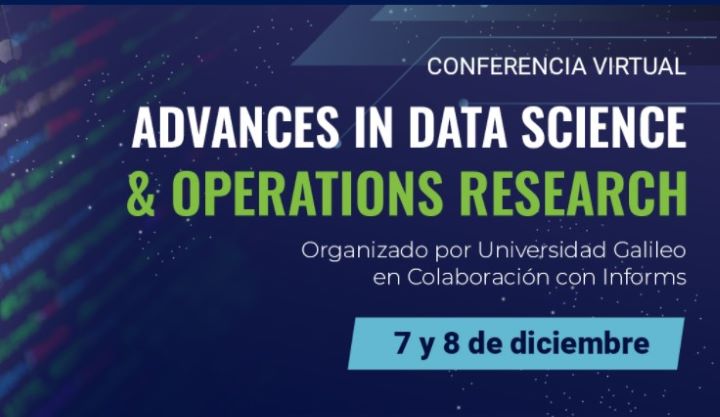 The keynotes
The main lectures of "Advances in Data Science & Operations Research" will be held by: Hatem Masri, Ph.D., and Gary Cokins, Ph.D.
Hatem Masri, Ph.D. Lecture: "Rethinking Business education – The impact of Industrial revolutions." Masri is a professor of business analytics and dean of the college of business administration at the Universidad de Baréin, Kingdom of Bahrain.
He is president of the African Federation of Operations Research Societies (AFROS). The speaker received a Ph.D. in management science in 2004 and a Master's in operations research in 1999 from the University of Tunis, Tunisia.
Gary Cokins. Lecture: "Analytics-Based Enterprise Performance Management". Cokins is an internationally recognized expert, speaker, and author in performance improvement systems and advanced cost management.
He serves on the board of advisers for organizations, including an advisory board with Harvard Business School Professor Robert S. Kaplan, for the International Monetary Fund (IMF).
Text: GES Comunicación